Dharti Patel
DMD, FDS RCS (Ed), ND, MSOM, DAcHM
Adjunct Faculty/Staff Physician
Orofacial Pain, Oral Medicine, Acupuncture, Herbal & Natural Medicines
---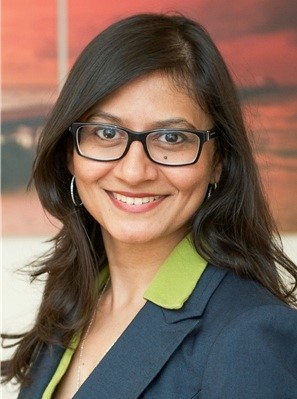 About:
Dr. Dharti Patel is a Dentist and Naturopathic Physician and has been working the past 20 years to bridge the gaps between medicine and dentistry.  She is board certified in Oral Medicine and Orofacial Pain. She also  obtained her Fellowship in Dental Surgery from the Royal College of Surgeons (Edinburgh) and is a Fellow of the International College of Oral Implantologists. Her training is extensive and is focused on integrative oral medicine and orofacial pain.  She is a leading expert on diseases that affect the mouth, head and neck related to systemic health.  She treats oral manifestations of systemic illness, oral mucosal diseases that stem from autoimmune conditions, salivary gland dysfunctions, Sjogren's Syndrome, radiation induced xerostomia post head and neck cancer therapy, oral pemphigus, oral mucous membrane pemphigoid, oral lichen planus, stomatitis, ulcers in the mouth, Herpes and viral infections, oral candidiasis and others.  She addresses gut health, diet, lifestyle effects on inflammation, immune dysfunction and their relation to oral diseases.  She utilizes integrative medicine practices, acupuncture, homeopathy, diet, sleep, wellness to address head and neck pain conditions that do not respond well to conventional care. These include Trigeminal Neuralgias, headache disorders, Migraines, Tension headaches, TMJ dysfunction, musculoskeletal pain in the face and neck, jaw pains, bruxism (grinding teeth), ear pain and ringing, anxiety, insomnias, obstructive sleep apneas,  Bell's palsy, facial movement disorders, tics and  orofacial dystonias, atypical facial pains, phantom toothaches (atypical odontalgias), burning mouth syndrome, burning tongue and other taste dysfunctions.
Over her career she has held faculty appointments as an Assistant Professor at University of Medicine and Dentistry of New Jersey (Rutgers University), New York University College of Dentistry, where she directed the clinical program in orofacial pain and oral medicine, while holding a private practice in NYC.  She has been practicing in the Phoenix metro area for the past 7 years and was voted Top Dentist by her peers in Phoenix magazine. She now intends to expand naturopathic medicine to the community.  She is actively lecturing nationally in dental and medical academies on integrative medicine in the fields of oral medicine and orofacial pain and continues to hold membership in numerous medical/dental organizations.
Area of Focus
Orofacial Pain, Oral Medicine, Acupuncture, Herbal & Natural Medicines
Education
Doctor of Dental Medicine, 2002, University of Pennsylvania School of Dental Medicine
Fellowship Certificate in Oral Medicine, 2004,University of Medicine & Dentistry of New Jersey
Doctor of Naturopathic Medicine, 2018, Southwest College of Naturopathic Medicine
Master's Science in Oriental Medicine, 2020,  Phoenix Institute of Herbal Medicine and Acupuncture
Doctor of Acupuncture and Herbal Medicine, 2021, Phoenix Institute of Herbal Medicine and Acupuncture
Publications:
Patel D, Glick M, Lessard E, Zaim S.  Absence of in vivo effects of dental instruments on pacemaker function.  Oral Surg Oral Med Oral Pathol Oral Radiol Endod.  2004; 99(4): 430.
Patel DN, Kerr AR. Tooth Discoloration. Medscape Reference. Updated June 21, 2013. Available at: http://emedicine.medscape.com/article/1076389-overview.
Patel D. Inconclusive results of systematic review of efficacy of antidepressants orofacial pain disorders. Evid Based Dent. 2013; 14.2:55-6.
Patel DN and Manfredini D. Two commentaries on interventions for the management of temporomandibular joint osteoarthritis. Evid Based Dent. 2013 Mar; 14(1):5-7.
Dahawi, Mohamed; Assiri, Khalil; Kerr, A. Ross; Patel, Dharti; Shah, Sonal. 'CR0437 Cases of early oral cancers and lesions mimicking cancer'. Oral surgery, oral medicine, oral pathology & oral radiology. 2014 117(5): e378-e378 (# 882772)
Mohammed, Al Roshaidan; Patel, Dharti N; Alyami, Yagoub; Kerr, Alexander R; Shah, Sonal S. 'CR0436 Primary oral tuberculosis'. Oral surgery, oral medicine, oral pathology & oral radiology. 2014 117(5): e367-e368 (# 882762)
Parekh, Nirav H; Shah, Sonal; Patel, Dharti; Kerr, Alexander Ross. 'CR0432 Oral manifestations of areca nut habits: selected cases'. Oral surgery, oral medicine, oral pathology & oral radiology. 2014 117(5): e380-e380 (# 882782)
Dahawi MA, Shah S, Patel D, Kerr A R. Oral pemphigoid with extensive ocular involvement: a case report. Oral surgery oral medicine oral pathology oral radiology. 2014; 118(6): e190.
Patel D; Turner T, Nelson E, Kozin A, Ruiz G, Langland J. Treatment of Herpes Virus-associated lesions using a synergistic botanical blend. Oral surgery oral medicine oral pathology oral radiology. 2016; 122(5): e163.