Carie Perrino
RDN, NMD
Diabetes, Hypertension, Thyroid, Digestive Health, IV & IM Therapy
---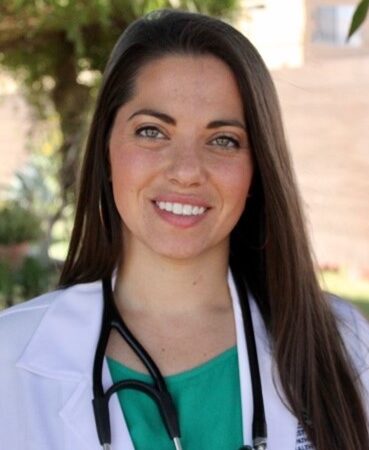 About
Carie has been practicing in the medical field since graduating with an undergraduate degree in Medical Dietetics from the University of Missouri – Columbia in 2015. She started with nutrition counseling and transitioned to managing tube fed patients for the Chicagoland area. After a couple years, she worked part-time as an inpatient dietitian while building a private practice focused on treating patients with autoimmune conditions and GI discomfort. Learning more about functional nutrition through her private practice led to a desire to advance her knowledge of medical care and adding more tools to her toolbox to treat the whole person. While completing prerequisite classes, she worked at Banner MD Anderson in Gilbert, AZ in their Integrative Oncology Department for 2 years prior to starting medical school at Sonoran University (formerly Southwest College of Naturopathic Medicine).
While at Sonoran University, Carie served as Class President, Student Member for the Board of Trustees, secretary of the LGBTQ+ club and tutored fellow Naturopathic students as well as students in the Masters of Clinical Nutrition program. She started the General Medicine residency at Sonoran University in 2022 and looks forward to building her patient base and get back to treating the whole person.
Area of Focus
Chronic Conditions – Diabetes, Hypertension, Thyroid management
Digestive Health
IV & IM Therapy
Education
University of Missouri – Columbia. Graduated 2015
Bachelors degree in Medical Dietetics with a minor in Business Administration
Sonoran University Medical Center. Graduated 2022
Doctor of Naturopathic Medicine
Publications
PROFESSIONAL CONFERENCES (PRESENTED)
Perrino C. Gut Immunology and LEAP Therapy. Oral presentation at: South Suburban Academy of Nutrition and Dietetics, 2016; New Lenox, IL.
Perrino C. Impact of Alpha-Linolenic Acid on Bone Turnover. Poster presentation at: Missouri Academy of Nutrition and Dietetics Conference, 2014; Columbia, MO.
MEDIA
01/2018 | Sugar and Inflammation
Good Morning Phoenix – Channel 3 News, Phoenix, AZ
01/2018 | Dietitians in Integrative Nutrition
Best of Health – Business X Radio, Tempe, AZ
OTHER PRESENTATIONS
Perrino C. Opportunities for Dietitians in Naturopathic Medicine. Virtual presentation for: Radford University, 09/2021; Radford, VA
Perrino C. An Integrative Approach to Nutrition. Oral presentation at: Banner MD Anderson Cancer Center, 09/2017; Gilbert, AZ
Professional Associations
2019 – present | Arizona Naturopathic Medical Association
2019 – present | American Association of Naturopathic Physicians
2019 – present | Naturopathic Medical Student Association
2019 – present | Gastroenterology Association of Naturopathic Physicians
Top Achievements in Medical Profession
Leadership Award – June 2022