Therapeutic Order of Naturopathic Medicine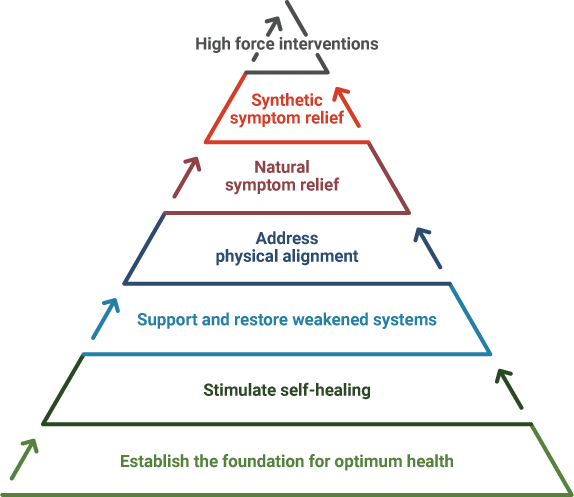 Naturopathic physicians follow the Therapeutic Order of Naturopathic Medicine, which are guidelines that help a naturopathic physician to completely resolve the patient's symptoms and address the underlying cause while using the least force necessary.
Followed in order, naturopathic physicians seek the root cause and move to methods that invoke the body's natural healing powers, determining how supplementary naturopathic techniques may aid the body before addressing any physical alignments to restore structural integrity to the body. If patients find that they're unable to find relief through natural symptom relief methods, only then do naturopathic physicians employ synthetic symptom relief tactics or high force interventions.
Steps of Naturopathic Therapeutic Order
Establish the foundation for optimum health
Ultimately, naturopathic physicians aim to bring patients back to health, so physicians start with removing any obstacles to health by creating a plan with the patient to address these obstacles. Oftentimes these obstacles include diet, excessive stress, destructive coping mechanisms, inadequate rest, and more. Removing obstacles to cure is core to the expression of the Naturopathic Philosophical Principle: Treat the Cause.
Stimulate self-healing
Naturopathic physicians believe in the body's innate ability to heal itself and stimulate a patient's healing nature through therapies like acupuncture, homeopathy, botanical medicine, nutrition, and more.
Support and restore weakened systems
Sometimes body functions need more than stimulation to improve, this is when naturopathic physicians employ their vast knowledge to aid in restoring optimal function to an entire physiologic or organ system. Modalities employed can include professional grade supplements, endocrine balancing, manual therapies, and more.
Address physical alignment
If patients require the use of physical therapies, naturopathic physicians call on treatments like massage therapy, spinal manipulation, cranio-sacral therapy, and more to improve and maintain skeletal integrity.
Natural symptom relief
While naturopathic physicians aim to restore heath by addressing the body as a whole and not just symptoms, there are instances where specific pathologies must be addressed and managed. In cases like these, naturopathic physicians utilize effective natural substances that are unlikely to cause toxic burden and can effectively relieve symptoms that cause suffering.
Synthetic symptom relief
Naturopathic physicians aim to avoid this step, but if necessary, they may employ the use of synthetic or pharmaceutical substances to restrain or manage symptoms that impact a patient's quality of life or safety.
High force interventions
Sometimes it is necessary in the interest of patient health, comfort, and safety to suppress pathological symptoms prior to addressing underlying causal factors and ultimately restoring health.